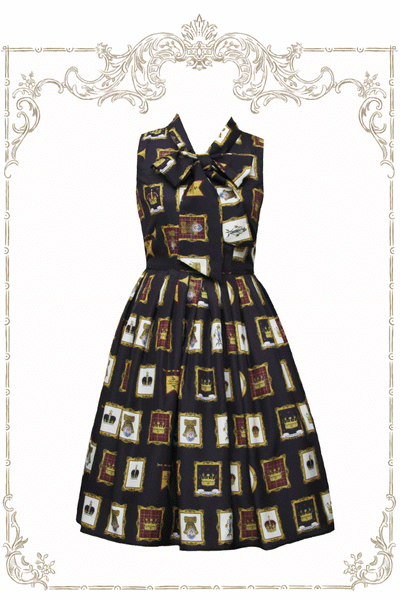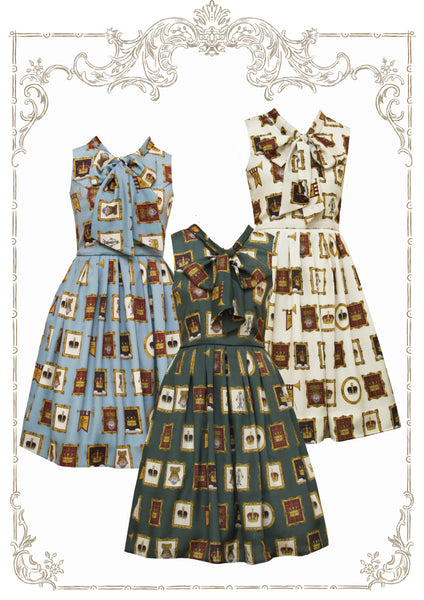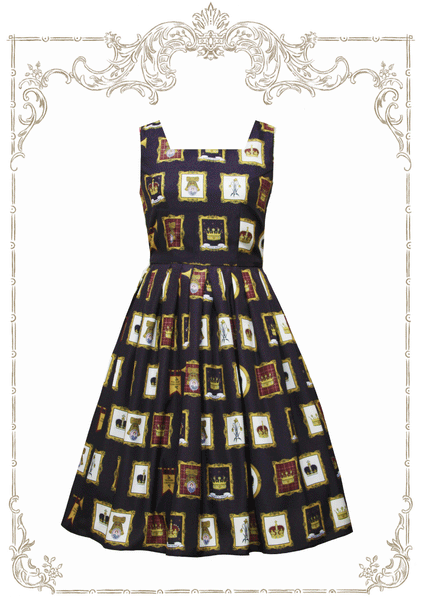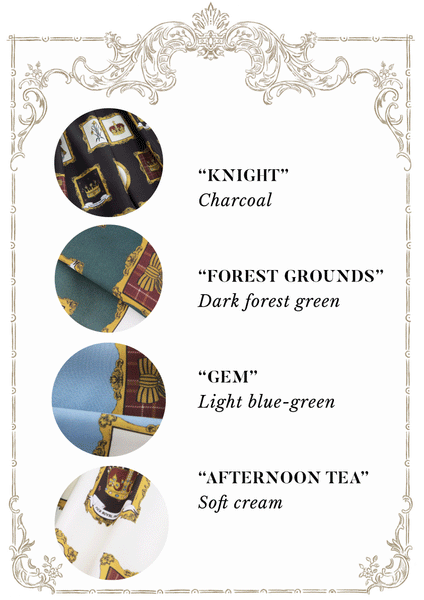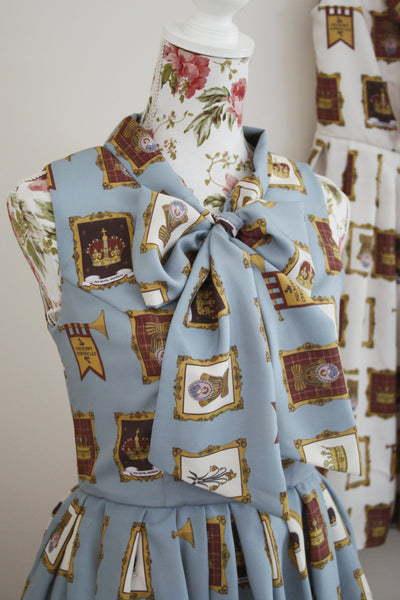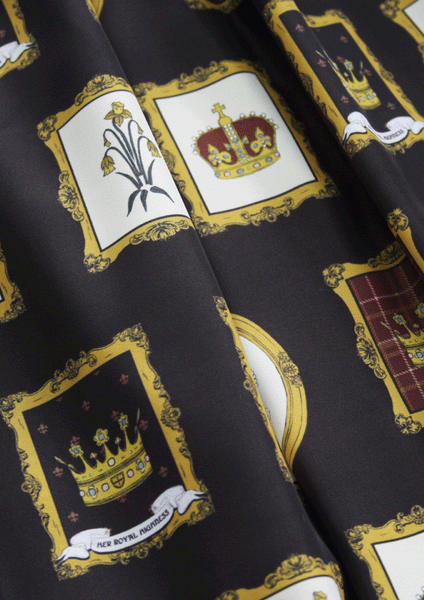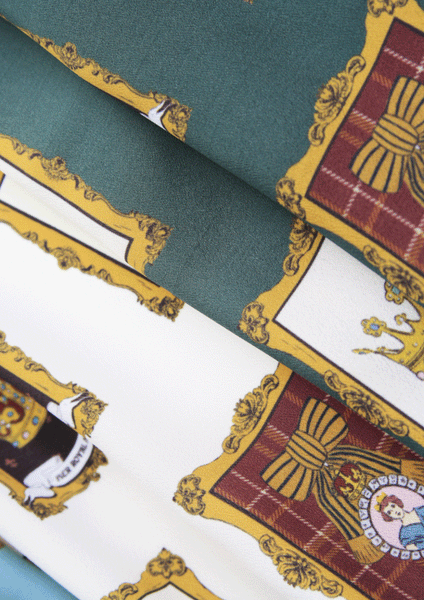 Mulberry Chronicles
Treasures of the Royal Crown Jumperskirt
Square Neck Dress: Approximately $176 USD, 132 GBP, 151 Euro
Pussy Cat Bow Dress: Approximately $191 USD, 143 GBP, 164 Euro
Inspired by crown treasures, tapestry and folklore, this luxurious print is a beautiful dress for the new year! The original illustrated print features royal crowns and treasures framed in ornate gold. 
Payment plans are also available. Please contact us if you would like to organise one.
SIZE GUIDE 
"Size 1" Bust: (up to) 84cm, Waist: (up to) 67cm, Skirt length: ~52cm, Dress length: ~93cm, Bodice length: 39cm
"Size 2" Bust: 89cm, Waist: 72cm, Skirt length: ~54cm, Dress length: ~94cm, Bodice length: 39.5cm
"Size 3" Bust: 95cm, Waist: 77cm, Skirt length: ~55cm, Dress length:~96cm, Bodice length: 40cm 
"Size 4" Bust: 100cm, Waist: 86cm, Skirt length: ~55cm, Dress length: ~97cm, Bodice length: 40.5cm 
Pussy Cat Bow dress hem length is ~2-3cm longer than Square Neck. Note: The most important measurement is the bust as the fabric does not stretch. The dress should still fall nicely if you are equal to or below the waist measurement of your preferred size. Also factor in if you want to wear a blouse underneath the jumperskirt. If you have any questions feel free to contact us.
CHOOSE YOUR COLOURWAY
"KNIGHT" - Charcoal. Very dark and saturated fabric compared to previous cotton versions of 'charcoal'. A versatile colourway that can be dressed up or down and paired with many different coloured clothes and accessories. 
"FOREST GROUNDS" - Forest green. A rich, luxurious colourway in a flattering shade of dark green. Looks beautiful coordinated with black, cream, burgundy and mustard. 
"GEM" - Light blue-green. A vibrant shade for a true princess! This shade of light blue makes the ornate gold frames really pop! Coordinates nicely with white, cream, navy and mustard. 
"AFTERNOON TEA" - Cream. A soft, pretty shade that still provides a lovely contrast against the ornate crown treasures. Very versatile to coordinate.
FEATURES
Two Pockets
Lined Dress
Elegant, light pleats
Can accommodate a full lolita or Malco Modes 582 Petticoat and also looks neat and presentable without a petticoat due to the pleated skirt.
COORDINATE ME WITH
Other 
Colours may appear differently on your computer monitor (dress has been photographed in natural light to minimise this)
Print positioning may vary from the stock photo
Dress cut may slightly vary from the stock photo
High quality crepe de chine fabric (fabric has a different finish to our regular cotton or crepe de chine used for "Afternoon Tea with Bunny". This high quality polyester has a luxurious textured and silky feel)
Gem, Afternoon Tea and Forest Grounds colourways have slightly thicker lining. If you are just over the size measurements or are considering wearing a blouse underneath the dress please consider sizing up 
The bow part of the Pussy Cat Bow Dress is standing up for the stock photo. It falls in a flattering drape when worn. 
Limited edition 
Printed and made in Australia 
Garment production is under way and due for shipment in January 2018
View our Mulberry Chronicles customer gallery for worn photos and comments