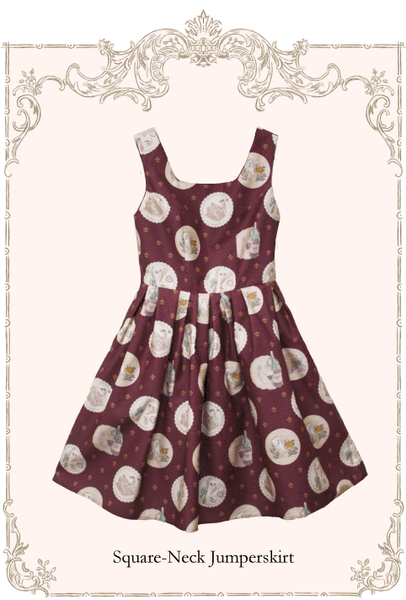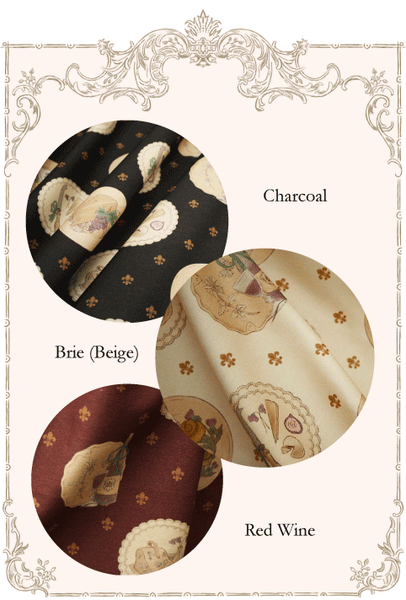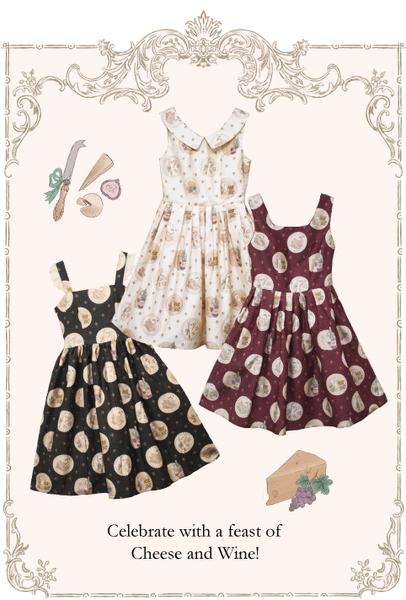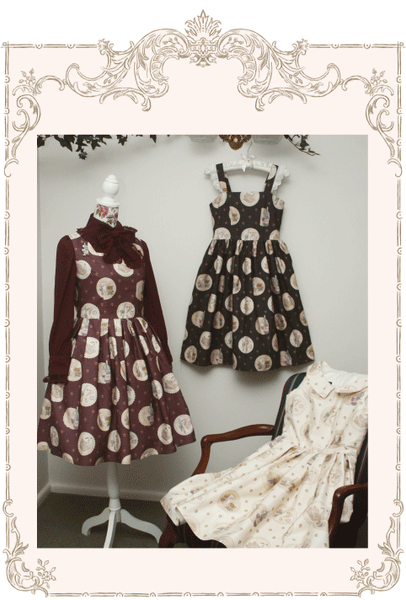 Mulberry Chronicles
A Feast of Cheese and Wine - Square Neck Jumperskirt
This original fabric print features a royal feast of cheese! See ornate plates, delicious slivers of cheese, cutlery tied with bows and matched wine, dotted with violets and gold fleur-de-lis. 🎉🍷
The custom size option applies to bust measurements above 100cm or half-sizes between our 1-4 size range. The price reflects the work involved in altering our pattern and additional fabric required. Please specify your accurate/actual bust, waist, bodice length (top of shoulder to waist) and skirt length in the order notes. 
Please note that the Red Wine and Charcoal colourways show a slight cotton fibre texture as pictured. Keep sharp objects and high heat away from the fabric to retain its vibrancy. 
SIZE GUIDE 
"Size 1" Bust: (up to) 84cm, Waist: (up to) 67cm, Skirt length: ~52cm, Dress length: ~93cm
"Size 2" Bust: 89cm, Waist: 72cm, Skirt length: ~54cm, Dress length: ~94cm
"Size 3" Bust: 95cm, Waist: 77cm, Skirt length: ~55cm, Dress length:~96cm
"Size 4" Bust: 100cm, Waist: 86cm, Skirt length: ~55cm, Dress length: ~97cm
(Note: Dresses run true to size. The most important measurement is the bust as the fabric does not stretch. Also factor in if you want to wear a blouse underneath the jumperskirt. If you have any questions feel free to contact us.)
FEATURES
Two Pockets
Lined Dress
Elegant, light pleats
Can accommodate a fluffy petticoat
Coordinates beautifully with many shades in your wardrobe
GARMENT CARE
Cool hand wash or delicate machine wash in protective bag
Other 
Colours may appear differently on your computer monitor (dress has been photographed in natural light to minimise this)
Print positioning may vary from the stock photo.
High quality cotton fabric (note that cotton, being a natural fibre, will have varying textures)
Limited edition 
Lace used may slightly differ from stock photo
Printed and made in Australia 
This is a reservation product. Delivery in May 2017.